Congratulations to Landree Winchester & Abbie Savage. JH & HS students of the month.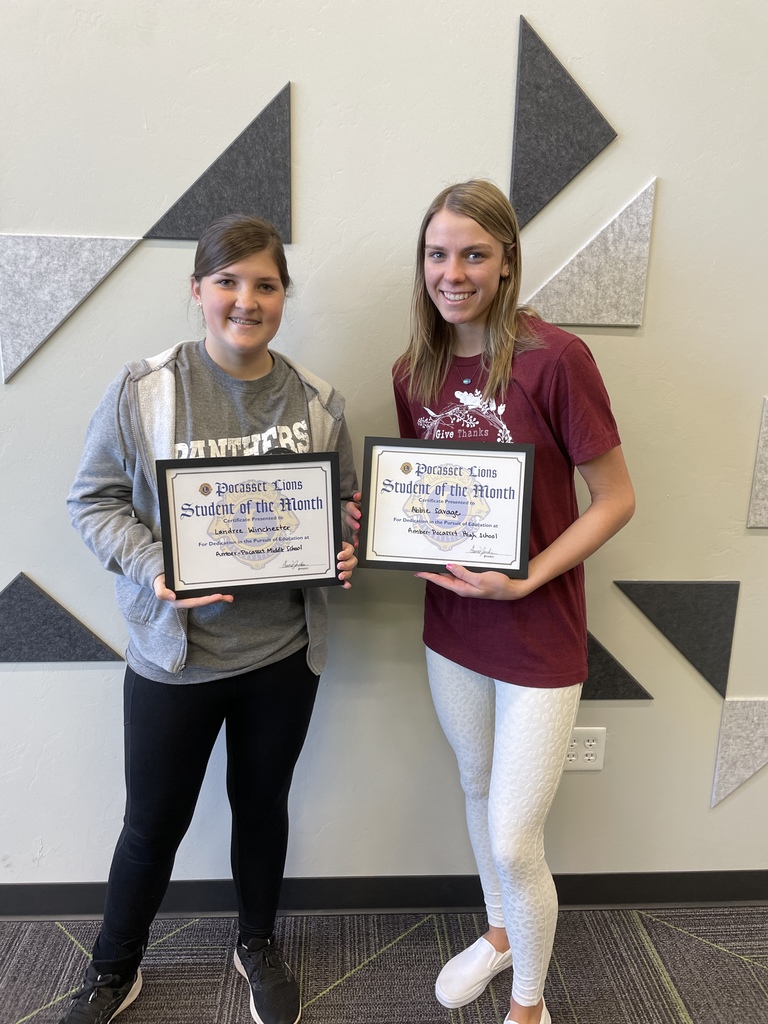 Congratulations Karter Caves! He won the OEC Youth Tour competition which includes a week long all expenses paid educational trip to Washington, D.C.. Karter is one of four students selected by OEC and will be one of 70 students representing the Oklahoma delegation this summer.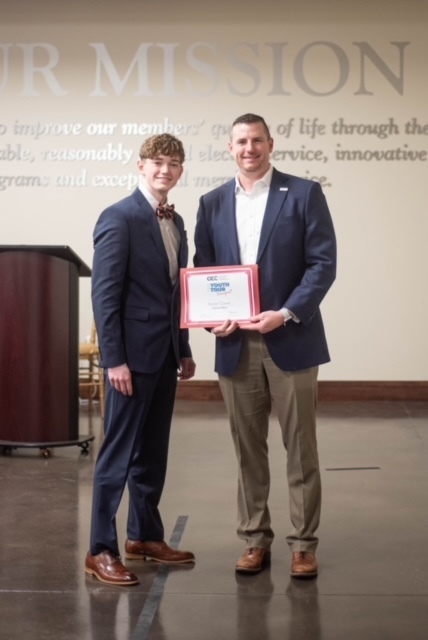 2022 Am-Po Baseball Classic Bracket March 24-26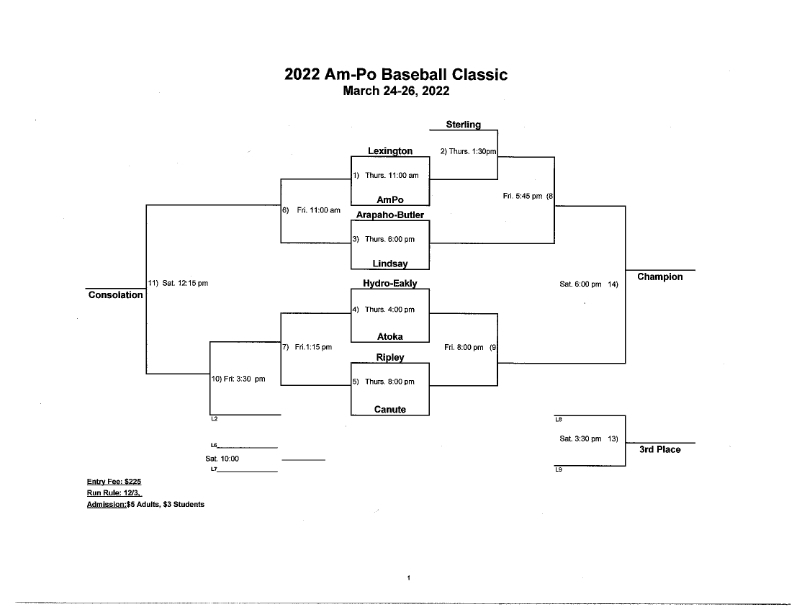 Open auditions for Ampo's Got Talent will be held Tuesday March 22nd. Come to the cafeteria after school and we will be done by 4:30pm. We are still looking for talents of all kinds to participate in our competition. Prizes for the winner!

Amber-Pocasset Schools will be Closed today for a snow day. Stay safe and have a great Spring Break!

Don't forget! PreK Enrollment on March 8 from 3:30 - 6:00 pm at the Elementary!

Amber-Pocasset Schools has placed several items on an online auction website. Items include: 4 buses, cafeteria equipment, furniture, miscellaneous tools and equipment, and a safe. The auction will remain open until March 29, 2022. You can view all of the items by going to the website listed below, and then search for Amber-Pocasset in the search bar in the upper right hand corner of the page. PurpleWave.com

Come support your Panthers as they have a chance to qualify for the state tournament tomorrow night. The game begins at 8pm at the Hennessey gymnasium. Go Panthers!! Below is the link to purchase tickets
https://gofan.co/app/events/561584?schoolId=OSSAA

Due to expected crowd turnout, fans may want to park in the East campus lot off Euclid and enter through the new middle school building through door B1. Please see attached map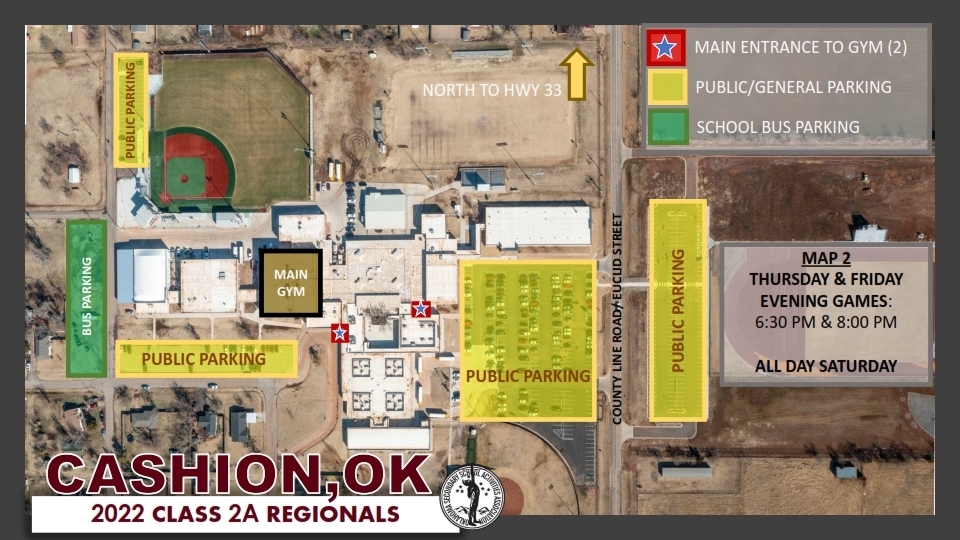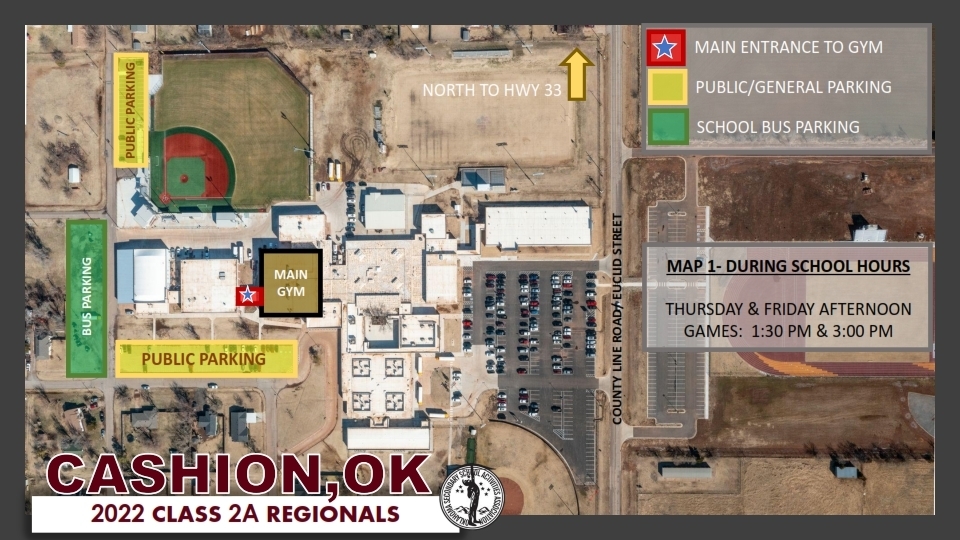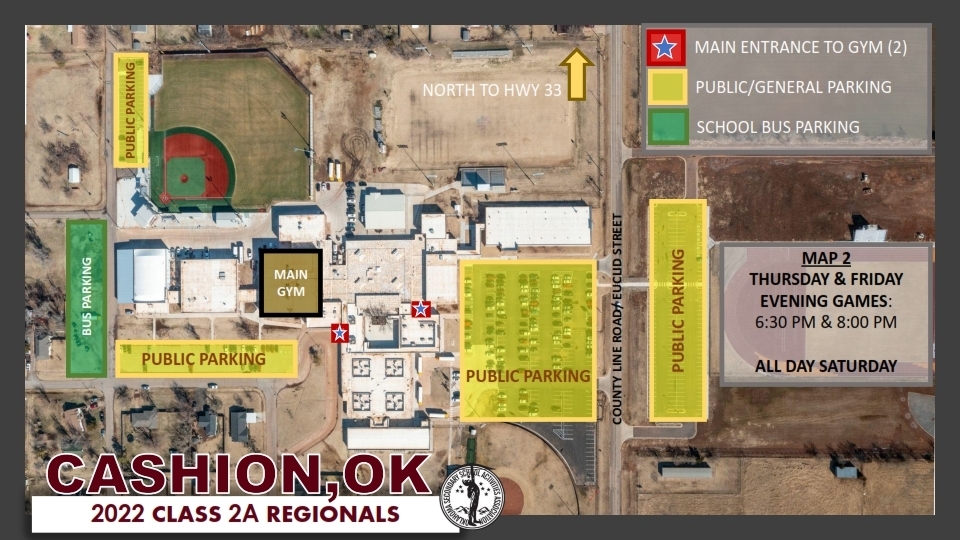 Coming to you soon... Ampo's Got Talent! We are looking for a verity of talents from trick shots, ventriloquism, singing, dancing, and more. Open auditions will be held during the second week of March. Sign up today!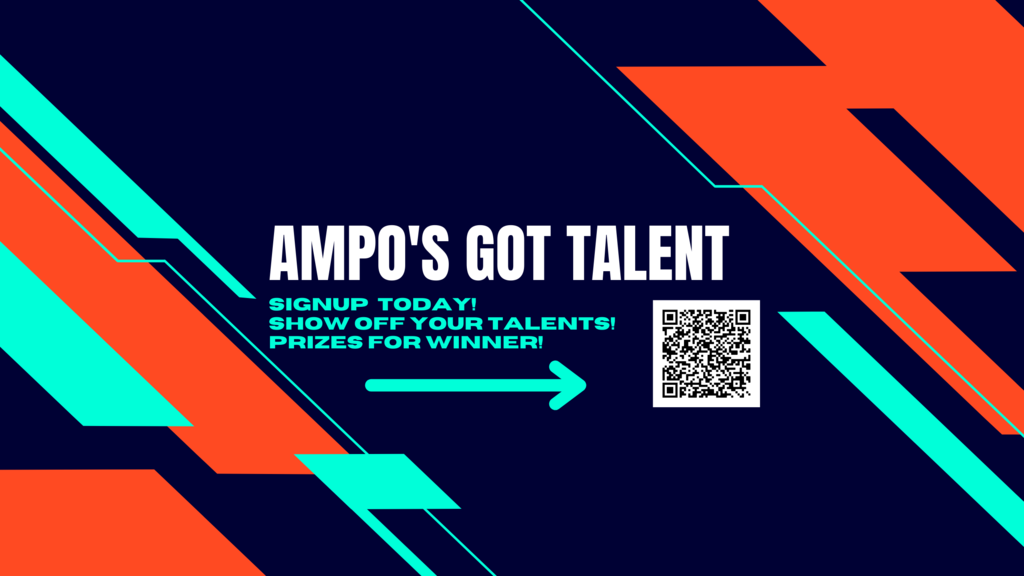 The Am-Po Ex-Po Stock Show that was scheduled for Saturday, February 26th is canceled due to weather conditions.

Good evening, hopefully we have reached the end of our winter weather, but with the conditions of sideroads, parking lots, and sidewalks Am-Po schools will be closed tomorrow, Friday Feb. 25th. All activities will be cancelled as well. Basketball Regionals will also be moved to Saturday with games starting at 4:00 0n Saturday. Lady Panthers will play at 7:00 pm and the boys will follow at 8:30. Please stay safe and warm!

With the continued threat of potential winter weather and freezing temps Am-Po Schools will continue with virtual learning tomorrow, Thur. Feb. 24th. We will continue to monitor the situation. Stay safe and warm!!!

Here we go again!!! With the threat of potential winter weather and freezing temps Am-Po Schools will transition to virtual learning tomorrow, Wed. Feb. 23rd. Stay safe and warm!!!

Congratulations to Kyle Williams & Addison Polson HS & JH Students of the Month!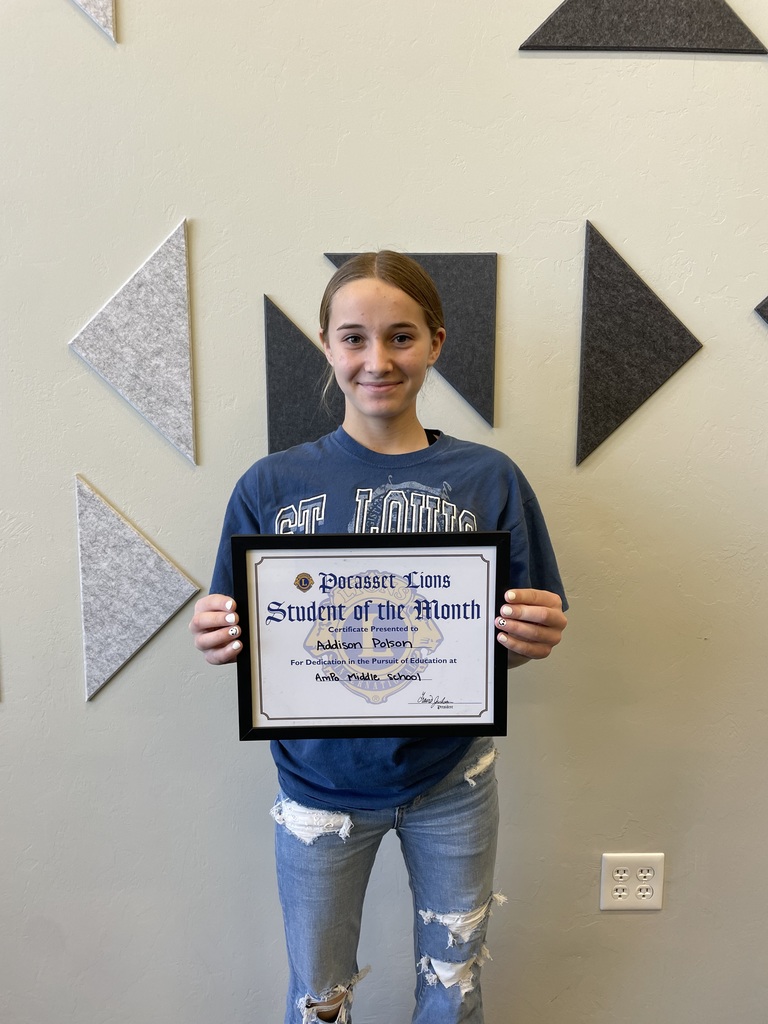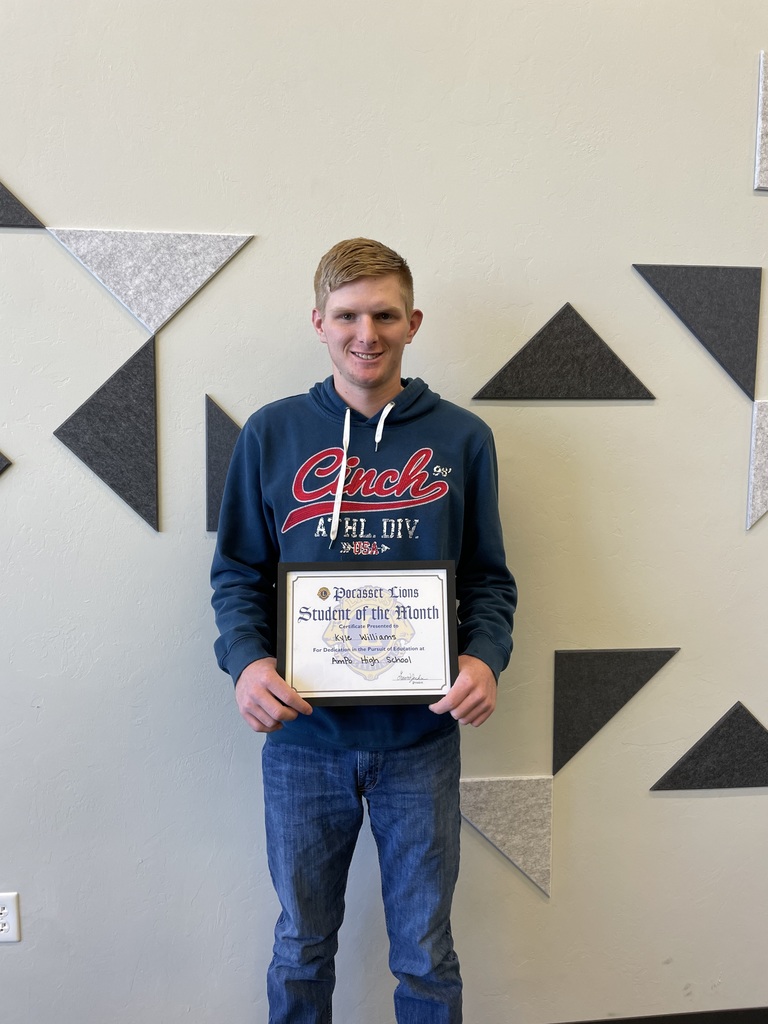 CLASS A AND B AREA TOURNAMENTS AND CLASS 2A-4A REGIONAL TOURNAMENTS—GAMES ORIGNALLY SCHEDULED FOR THURSDAY WILL BE PLAYED IN ONE SESSION ON FRIDAY. LOCATIONS WILL REMAIN THE SAME. GAME TIMES ARE 4 PM; 5:30 PM; 7 PM AND 8:30 PM. GAMES ORIGINALLY SCHEDULED FOR FRIDAY WILL BE PLAYED ON SATURDAY—SAME LOCATIONS AND SCHEDULE. GAMES ORIGINALLY SCHEDULED FOR SATURDAY WILL BE PLAYED ON MONDAY—LOCATIONS WILL REMAIN THE SAME. THERE WILL BE 2 SESSIONS ON MONDAY. PLEASE VISIT OSSAA.COM FOR UPDATED BRACKETS FOR ALL BASKETEBALL PLAY-OFF CONTESTS. ALL TICKETS ALREADY PURCHASED WILL BE HONORED FOR THE APPROPRIATE SESSION The OSSAA is using online ticketing for all playoffs. Below is the link to purchase regional tournament tickets Online tickets are $7 plus a convenience fee ($1.35) for first grade and older. Cash purchases at the door are $10.
https://gofan.co/app/school/OSSAA
*Tickets will be validated by presenting your mobile device to the gate keeper *You will not print your tickets *Only OSSAA playoff pass can be accepted

Congratulations to our Am-Po students who placed at the TSA Edmond Mini Conference 1st place High School Essay Writing- Kaylee Ferrell 1st place High School Problem Solving - Aiden Callahan & Ashton McKinney 2nd place- High School Promotional Design- Lydia Darce 2nd place High School Debate- Cody Watson & Aiden Callahan 3rd place Middle School Forensic Science- Logan Murray & Logan West

This Tuesday evening the High School singers, Young Voices, and guitar players are performing at 6:30pm in the High School commons area. Hope to see you there as we celebrate two's day together.